Dear MRA Members and Friends;
As I write this, Easter has passed, and although it is an early Easter, I hope that you got into the Easter spirit, and thoroughly enjoyed your weekend. Since it was an early Easter, I worried that it would be a cold, dreary one. However, at least on the Central Coast, Mother Nature is being wonderful and we received temperatures in the 80s all weekend. I hope that this is a sign that summer is nearly upon us and people are ready to get out and recreate.
I want to follow-up on a topic I touched on last month. If you attended the California Boating Congress, you saw a Regulatory Matrix which was spearheaded by your Association, and includes most of the regulatory agencies and regulations that we in the marine industry have to deal with to operate and improve any of our facilities. If you do not yet have one, you need to get a copy and post it around your facility, to demonstrate to all - employees and customers alike - what it takes to operate in our industry. It is awe inspiring, and not in a positive way.
There are members in MRA who are experts in dealing with these regulatory agencies and regulations, and there are also members who are experienced in doing so because we have dealt with all of these. Take advantage of your membership, and seek advice when needed.
As I said, many of us have dealt with these agencies, and view them as a necessary part of the operating/development process. Some of us have seen, however, that dealing with some of the agencies can be trying, and sometimes impossible, as we have seen examples of agencies changing the rules midway through the process, or even after a project is completed. One glaring example is the Westpoint Harbor in the Bay Area, one of our members, and what seemed like unfair practices as the BCDC started changing rules, or rule interpretation, after the project was complete.
The MRA joined in the effort to formally question this practice to the BCDC, and thankfully the Commission has directed that this issue be reviewed. As I said, we (sometime grudgingly) are more than willing to follow the myriad of rules, so long as the rules of the game are not changed during the game.
We continue our planning for the 47th Annual MRA Educational Conference and Trade Show, as we are holding our next planning session in mid-April. The Conference is set for October 22-24, 2018 in beautiful Santa Barbara. Mark your calendars and please plan to join us.
As always, may you have great navigating into the future and always embrace change.
New Year, New Advocate & New Perspective
Hello Marine Recreation Association! I am Bret Gladfelty, your new legislative advocate at The Apex Group. My goal is to better understand MRA issues this year and I believe that your first-person experience is the best way to understand any particular issue. I've been a boater my whole life, from rivers, ponds, lakes and the Pacific Ocean. Each body of water carries its own dynamics for navigating safely. Similarly, politics in Sacramento must be navigated in their own unique way but the most important part is that to hear directly from you, so feel free to reach out to me if you have any questions or concerns, via email at bgladfelty@theapexgroup.net.
Bret's Background
I joined The Apex Group as a governmental advocate specializing in marine, technology, finance and tax related issues. I started my advocacy role in 2012 working as an innovation analyst and advocate for Innovation State. I published several white papers promoting the benefits of doubling California's research and development tax credit (RDC) and streamlining federal compliance for RDC sunset dates. This idea was first introduced into the California State Legislature in 2013. AB 653 (Perez) introduced the concept of doubling the R&D tax credit along with several other concepts for promoting innovation policy as a single package entitled the "California Innovation Jobs Act."
In 2016, I drafted legislation to create the implementation of a state operated digital identity program for California residents. This was introduced as AB 1296 (Quirk-Silva), which would require the Secretary of Government Operations to appoint 10 people to serve as the members of the task force. The bill would require the task force to study the development of an e-identity program within California and to report its findings to the Legislature.
Prior to joining The Apex Group in 2017, I co-founded "Consens.io," a public benefit corporation, focused on creating the first "Issues and Solutions" civic tech platform to help local leaders identify issues through community voting and create a dialog regarding possible solutions to community driven issues. I am a graduate of Santa Clara University with a Bachelor of Science in Finance and with Minors in Philosophy and Economics.
California Legislative Issues
This year our esteemed California Legislature introduced approximately 2,382 bills, which we reduced for an initial review of 40 bills, that were related to marine and/or water issues. We will review a couple of these bills that are the most applicable to MRA.
AB 2175
This bill will create parity between the Harbors and Navigation Code and the Vehicle Code by clarifying the authority of peace officers and harbor patrol officers to remove a vessel from public property when the officer has probable cause to believe that the vessel was used as the means of committing a crime and when the officers believe that the vessel is itself evidence, or that the vessel contains evidence, which cannot easily be removed; this tends to show that a crime has been committed. AB 2175 will also create an enhanced penalty for any person who uses any vessel or manipulates water skis, an aquaplane, or similar device in a reckless or negligent manner and causes great bodily injury.
AB 2441
Abandoned and derelict vessels (ADVs) pose a direct threat to the surrounding environment and the entire state's water quality. Once vessels sink, the threat becomes real as asbestos laden materials, lead-based paints, and petroleum products such as gasoline, diesel fuel, and antifreeze leach into the Delta. Furthermore, each ADV impacts the navigability of waterways throughout the Delta, impacting economic and recreational activities
Funding for the removal of abandoned vessels is insufficient and depends solely on the type of vessel being removed. Currently, the only secure source of funding is for the removal of recreational vessels from a nominal registration fee on recreational vessels and a vessel fuel tax.
The total estimated cost to remove all the known ADV's from the Delta region is over $30 million. Commercial vessels make up the most of that cost around an average of $500,000.
AB 2441 seeks to ensure stable funding through lease revenues from property within the Delta and deposit into a new account for the State Lands Commission to work with county marine patrols, state agencies, and others to eradicate commercial ADVs in the Delta region.
On the Horizon
During our winter Marine Legislative Meeting several members discussed an idea that had been implemented in Florida and other states, regarding creating a cap for sales and use tax for yacht sales. More specifically, this bill could appropriate additional revenues from this tax and create a fund towards today's most pressing issues such as, homelessness or housing projects.
At our recent 2018 California Boating Congress, I spoke to a representative from Safe Harbor Marina's and they displayed enthusiasm for creating a lobbying fund to support an effort to push this idea. We have started discussions and I will keep you informed of further progress.
I look forward to supporting and advocating on behalf of the Marine Recreation Association.

With a list of key legislative issues, and a determined focus on the future, marine industry and boating advocates came together again on February 28th to impress upon our state legislators and regulators the importance of recreational boating in California.
The event kicked off on Tuesday, February 27th with an evening Welcome Reception at the Sacramento Hyatt Regency Hotel, sponsored by Boat US, National Marine Manufacturers Association and Bellingham Marine. Nearly half of the registered attendees came early to network and discuss common boating industry interests over hor d'oeuvres and beverages, setting an optimistic tone for the next day's conference and meetings with legislators.
"It's great to see interest in the California Boating Congress increasing every year," said Mark Sandoval, President of the MRA, who welcomed more than eighty marine industry and recreation advocates to the Congress on Wednesday morning.
This year's CBC was again spearheaded by the Marine
Recreation Association with twelve other boating advocacy and industry associations as co-hosts, including the National Marine Manufacturers Association, California Marine Affairs & Navigation Conference, Personal Watercraft Industry Association, Recreational Boaters of California, California Sportfishing League, California Delta Chambers & Visitors Bureau, Worldwide Boaters Safety Group, California Yacht Brokers Association, the Sacramento Valley Marine Association, California Association of Harbor Masters and Port Captains, and the Bay Planning Coalition.
State regulatory agencies also participated in the morning meetings with a number of representatives from the California Department of Parks and Recreation, Division of Boating and Waterways, Department of Fish and Wildlife, and California State Lands Commission, emphasizing a positive and cooperative attitude working with the CBC and industry interests.
Mark Sandoval thanked all of the co-hosts and sponsors, and opened the conference by reminding participants that the CBC's purpose was not to confront legislators and regulators, but rather to educate and engage them in a process of cooperation to improve recreational boating in the state.
"We are a diverse group gathered here because we all have a passion for recreational boating," said Mark. "And we are here at the CBC because we also
recognize there are forces in Sacramento opposed to our industry and enhanced boating recreation. All of us gathered here want to make a difference in how our regulators and legislators view recreational boating, and the impact it has not only on our industry but the state economy as a whole."
Robert Newsome, Vice President of Engineering Standards, Membership & Association Marketing with the NMMA, followed Mark with a keynote speech on Boating & the Economy in California. Mr. Newsome noted that one of the misconceptions held by many legislators is that boaters are all wealthy, when in fact, 95% of boats in the U.S. are small towable boats under 26 feet, and 62% of boat owners have annual household incomes of less than $100K. In California alone, there are more than 697,400 registered boats, and the recreational boating industry provides an annual economic impact of more than $8.9 billion supporting 48,465 jobs at 3,062 business in the state. Mr. Newsome also reviewed recent trends in the industry showing that growth is returning again after the great recession, but with some changes in certain market sector activity.
Bret Gladfelty, marine industry advocate from The APEX Group, closed the early morning session with a brief Legislative Summary, and Legislator Meeting Instructions for participants.
After the coffee break, this year's CBC provided attendees an expanded opportunity to learn more about critical issues and programs affecting recreational boating in the state with three 40-minute periods offering a choice of topics during each session.
Session 1 covered various efforts and programs that are being successfully developed and utilized by the Recreational Boating and Fishing Foundation to grow and enhance recreational angling and boating. Sheri Pemberton from the California State Lands Commission, discussed the state's abandoned vessel removal program, and existing grants and cleanup efforts. And Navi Dhillion, Attorney, Morrison & Foerster LLP, reviewed the heavy burden and plentitude of agencies involved in regulating the marine industry, and discussed ways that the industry could mitigate the regulatory over-reach and abuses that often occur.
The second period included a session with DBW Commissioners Katherine Pettibone and Doug Metz who reviewed the evolving policies and priorities of the new DBW as it is integrating into the Department of Parks and Recreation, and the implementation of the first "Boating Needs Assessment" study since 2000, to be done by Sacramento State University. In another session, Greg Gibesen, President, Recreational Boaters of California, discussed the requirements and roll-out of the California Vessel Operators Certificate starting this year. Robert Newsome and Dean West from the NMMA and CYBA laid out some of the industry strategies being employed to grow and enhance the recreational boating economy in California.
The final period included a question / answer session with several department heads from the Division of Boating and Waterways, Law Enforcement, Boating Safety & Accidents, Abandoned Watercraft, Delta Invasive Species, and Yacht & Ship Licensing units, and a Q & A session with department heads from the California State Lands Commission and Department of Fish & Wildlife.
During lunch on the fifteenth floor of the Hyatt Regency, Bret Gladfelty again reviewed the afternoon legislative visits schedule and parameters, and attendees then converged on the State Legislative Offices for a series of meetings with individual State Senators and Assembly Members.
This year's CBC was very effective in bringing the concerns and interests of the marine industry and recreational boaters to the forefront of our state regulators and legislators attention, but the recreational boating industry in California continues to be under pressure from opposing advocacy groups. Events like the CBC can only help to level the playing field for the industry, and those of us who relish a day on the water.
The 4th Annual California Boating Congress is already in the planning stages and promises to be another worthwhile opportunity for boating enthusiasts and industry concerns to meet with state regulators and legislators to discuss the impact of regulations, policies, and planning that effect recreational boating and marine interests in the state. For more information about this important event go online at
www.calboatingcongress.com
or call Mariann Timms at 209-334-0661.
Article and photos by James "J" Mills - J. is a part-time freelance writer for Marina Dock Age and other industry publications, and can be reached at
jmills@meecosullivan.com
or (209) 452-2475.

One of the sessions held during this year's CBC dealt with the topic of how to navigate the complex and myriad laws and regulations applicable to the maritime industry. This session was led by Mr. Navi Dhillon, an attorney with Morrison & Foerster LLP. Mr. Dhillon is not only an expert in environmental law but had previously represented MRA in the Association's Countermeasures Consortium dealing with an unscrupulous NGO that extorted funds from our members.
Mr. Dhillon provided the attendees with a brief history of how our environmental laws come into effect at a federal level and how each area of the country is responsible for managing these laws on a regional basis. He spoke of the maritime industry as being one of the most heavily regulated, likely only surpassed by those who operate nuclear power plants!
The seminar topic, "Drowning in Regulations" was graphically illustrated by a poster that presented MRA's Regulatory Matrix, which listed the numerous federal and state laws and "the alphabet soup of agencies" that govern the maritime industry. Further noting, the Matrix did not include the many county and city regulations the industry must also follow. Click here to view MRA's Regulatory Matrix for Marinas and Boatyards.
http://www.marina.org/thematrix.html
Mr. Dhillon reviewed the many challenges faced by businesses when they become targets of government enforcement actions, including the byzantine laws at issue during litigation. Some attendees observed that it appears such enforcement actions constitute a "regulatory racket." The discussion also included a breakdown of how agencies have discretion, the need to provide substantial evidence, the legal fees associated with litigation and the judicial review process. He also provided recent examples of companies who have elected to fight agency overreach and their success stories.
The session also included some great advice on how companies can improve their Best Practices to guard against or reduce the consequences of agency enforcement and overreach. Such practices include maintaining strong records of events, properly documenting events, and engaging with the appropriate consultants and legal counsel should an agency or NGO scrutinize your business.
While the session contained many sobering and downright scary scenarios, there were many positive and constructive thoughts as well. Mr. Dhillon encouraged all the attendees to become more involved in the politics of our rulemaking by working with legislators and regulators to ensure our voices are heard. And, if all fails, have the fortitude to stand up for what is right.

Assemblyman James Gallagher
of Yuba City introduced Assembly
Bill 2465
in February which aims to increase fishing participation throughout the state by collaborating with the Department of Fish and Wildlife (DFW) to identify and remove barriers to sport fishing that have contributed to a significant decline in the state's participation rate and sport fishing license sales.
The California Sportfishing League, the state's leading advocate for recreational anglers, will serve as the bill's sponsor.
This bill establishes a panel of sportfishing leaders tasked with developing a strategic plan to Retain, Recruit and Reactivate angler participation, otherwise referred to as an "R3 Stakeholder Group." The goal of this group is to develop and approve recommendations for removal of those barriers, and submit to the Legislature a report containing the approved recommendations.
"California's fishing participation rate has declined to "dead last" in the Nation, and developing solutions that increase participation in outdoor recreation is long overdue," said Assemblymember James Gallagher. "Growing fishing participation is critical to the state and for communities that depend on recreational fishing for outdoor tourism and jobs."
Annual fishing license sales have declined over 55% since 1980, while the population has increased over 60%. This has had a considerable negative impact on funding for the DFW's conservation and hatchery programs. In 2017, the California Fish and Game Preservation Fund, funded by hunting and fishing licenses, experienced a $20 million deficit. Absent an influx of new revenue, future deficits are projected for years to come.
"There is a growing recognition among wildlife agencies all over the country that new and innovative approaches are needed to make fishing more affordable and accessible," said Marko Mlikotin, executive director of the CSL. "Passage of this bill will introduce more Californians to the joy of fishing and the great outdoors."
When California has one of the costliest fishing licenses in the U.S., combined with increasing limitations on when and where one can fish, it comes as no surprise that California's fishing participation rate ranks dead-last in the U.S. (per capita). Consequently, annual license sales have declined over 55 percent since 1980, a time when annual licenses cost a mere $5 a year.
Assemblymember James Gallagher is also the author of
AB 986
, legislation that will establish a 12-month fishing license, and discount hunting and fishing licenses for California veterans.
Attend Capitol hearing on Lead Fishing Weight Ban
The MRA is part of a coalition of recreational fishing and boating associations, the tourism and hospitality industry and small business associations in opposition to legislation that will ban common lead fishing tackle. Assemblymember Bill Quirk introduced AB2787, which will ban lead weights of 50 grams or less and have a considerable impact on the cost of saltwater fishing, and the fishing charter boats that use this fishing tackle.
Passing AB2787 will further harm fishing participation rates by driving up the cost of fishing tackle two-three times, or more. California's fishing participation rates have declined significantly, and in large part to the fact that fishing in California is extraordinarily costly and becoming less accessible. As participation rates decline due to added costs, so will license sale revenue that funds the fish hatcheries that stock our local rivers and lakes, and conservation programs that protect local wildlife, and waterways. These marina operators, fishing retailers, and charter boat companies all contribute to the economic activity that generates $4.6 billion a year in California and this bill would hurt their jobs.
Please voice your opposition to this costly bill
. It will be heard April 10th and 1:30pm at the State Capitol in room 444. We hope to see you there! If you cannot make it,
please be sure to sign the petition
.
Additionally, interpretive and regulatory signs showing the state marine protected areas exist for many coastal locations. A new phase of signage will bring 150 new marine protected area signs to California including locations like harbors, marinas, and bait shops. Please
follow this link to view and download
signs. These signs may also be replicated and laminated as a low cost alternative for outreach. If you are interested in receiving hard copies, please send your request to
katelyn@californiamsf.org
.
The Division of Boating and Waterways (DBW) in conjunction with partners invites the public to learn how to prevent the further spread of aquatic invasive species (AIS) in California's waterways. Several workshops will be held in Northern California starting in early April to help the public learn about the effects AIS can have on the economy and the environment, how to recognize AIS in their region, and how to take action to prevent it from spreading. Workshops are free, but spaces are limited and pre-registration is required.
Aquatic invasive species such as quagga and zebra mussels, water hyacinth and Brazilian waterweed pose threats to California's water delivery systems, hydroelectric facilities, agriculture, boating, fishing and the environment. Recreational activities, including boating and fishing, can spread AIS from infested waters to uninfested waters.
"Everyone accessing California's waterways can learn about simple actions to avoid spreading AIS each time they leave a waterbody," said DBW's Acting Deputy Director Ramona Fernandez. "AIS specialists will provide current prevention information to boaters, anglers and marina operators."
In addition to DBW, AIS experts from the California Coastal Commission, the California Department of Fish and Wildlife and U.S. Fish and Wildlife Service will be on hand at these workshops.
Wednesday, April 4 - Morgan Hill
Deadline to register: Friday, March 30
Time:
8:45 a.m. - 2:45 p.m.
Partner:
Santa Clara County Parks
Thursday, April 12 - West Sacramento
Deadline to register: Friday, April 6
Time: 8:45 a.m. - 2:45 p.m.
Partner: Sacramento Yacht Club
Wednesday, June 13 - Sausalito
Deadline to register: Friday, June 8
Time: 8:45 a.m. - 2:45 p.m.
Partner: U.S. Army Corps of Engineers Bay Model
To register, please contact Boating Clean and Green's Program Coordinator Vivian Matuk via email at
vmatuk@coastal.ca.gov
or phone (415) 904-6905. Location and directions to the workshop are included with confirmation of the registration. Free parking is available at the workshop sites. Lunch will not be provided.
The AIS workshops are part of the California's Boating Green and Clean Program. The program is an education and outreach program conducted through the California State Parks Division of Boating and Waterways and the California Coastal Commission. Staff and volunteers promote environmentally-sound boating practices to marine businesses and boaters. For more information, please visit
www.BoatingCleanAndGreen.com
.

Barb's Fish & Chips at Fisherman's Wharf within the inner harbour Victoria, B.C. is getting a beautiful New Floating Restaurant!
Barb's Floating Restaurant opened its doors back in 1984 for the first time
, and for 34 years has been serving the best fish & chips in town pleasing locals and tourist
that come to Fisherman's Wharf especially for the fresh seafood & chips. The demand is so great that the current owner Ian Poyntz approached
(IMFS) International Marine Floatation Systems, Inc.
to build a brand new building design that would double his capacity and speed up the ordering process. The challenge was that he had to have this project complete and ready to be installed in Victoria in 7 months, this included all custom designed commercial kitchen with 2 walk-in freezers, all stainless steel walls, partitions, counters and equipment. The projects very quick tim
eline required the floating building in place by March 2018 to be ready for the grand opening in April. The owner together with Pinnacle Construction Ltd. managed the construction of the building, to get all this completed in time.
The floating concrete foundation is 31ft x 41ft, 6'-7" high, the complete project including building weighs 183 Tons. This 2 storey all steel building supplied by Bone Structure was shipped from Quebec and assembled at the IMFS yard in Delta, B.C. The complete foundation and building was all built in the IMFS yard and side launched into the river, then towed to Victoria, B.C. which was another 30 hours by tug.
IMFS is very proud to have been involved in another fantastic floating project!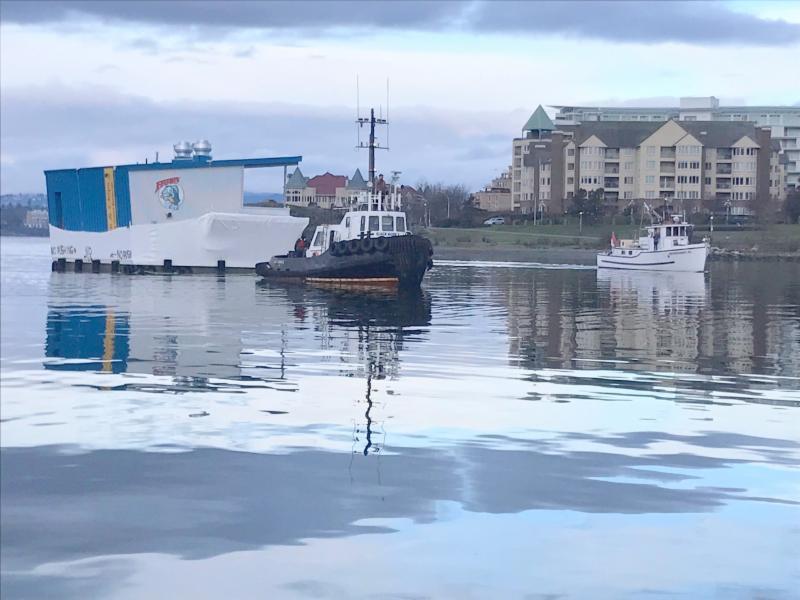 BoatUS: Tax Provisions for Boats Extended
Have a boat loan? Ask your lender for form 1098
Just two short years ago, Congress extended some boat sales tax and mortgage interest deductions for recreational boat buyers. Excluding home equity loans, those deductions remain for next year's 2018 tax season with the recently passed GOP tax overhaul plan signed into law on December 22, 2017, albeit with some new lower limits on lending amounts, according to Boat Owners Association of The United States (BoatUS).
Before passage of the
Tax Cut and Jobs Act of 2017
, BoatUS, the nation's boating advocacy, services and safety group, had concerns that boat owners would be singled out for negative tax treatment. However, recreational vessels with a sleeping berth, cooking and toilet facilities will be treated equally with second homes and recreational vehicles that may qualify for some sales tax and mortgage interest deductions when filing (in 2019) a 2018 federal income tax return.
The new Tax Cut and Jobs Act reduces the previous $1 million second-home mortgage deduction limit to $750,000. "Most new boats sell for far below this new cap, so we don't think that will have much impact on the average boat buyer," said BoatUS Manager of Government Affairs David Kennedy. However, what could affect buyers of smaller vessels is the act's removal of the deductibility on interest for a home equity loan. Historically, borrowers could deduct home equity interest on loans up to $100,000 ($50,000 for married couples filing separately). "With the new tax law, that deduction is gone," said Kennedy.
For the current 2017 tax season, the existing deduction remains in place and is offered to new owners who paid substantial state sales taxes on a new or used boat purchased in 2017. If there is a loan taken, mortgage interest paid on the loan may also be deducted from federal income taxes. Again, the vessel must have a sleeping berth, cooking and toilet facilities to qualify. Here are the details:
2017 Sales Tax Deduction
The Tax Increase Prevention Act of 2014 continues to offer a federal tax deduction for state sales taxes paid on a recreational vessel. Boaters must choose either the state sales tax deduction or state income tax deduction on their federal tax return - they cannot take both. In addition, to take the state sales tax deduction, the sales tax on a boat purchase must be applied at the same tax rate as the state's general sales tax. In order to claim the sales tax deduction, tax returns must be itemized. State sales taxes are entered on
IRS form Schedule A, line 5b.
2017 Boat Loan Deduction
A boat is considered a second home for federal tax purposes if it has a galley, an installed head and sleeping berth. For those owners with a secured boat loan, mortgage interest paid on the loan may be deducted from federal income taxes. Taxpayers may use the home mortgage interest deduction for one second home in addition to their primary home, and must itemize deductions on their returns.
Some boaters may be unaware of this potential tax benefit because not all lending institutions send borrowers an
IRS Form 1098
, which reports interest paid. Not receiving the form does not preclude taking the deduction. If a 1098 is not available, boaters should contact their lender for the amount of interest paid and should enter it on line 11 on Schedule A along with the lender's tax ID number. If a form 1098 is sent, boaters should simply enter the amount on line 10 of Schedule A.
For more details on the mortgage deduction on boats that qualify, go to IRS.gov and download
IRS Publication 936
.
Looking to 2018
The new limits on deductibility of mortgage interest and state sales taxes will kick in when boat owners calculate their 2018 tax liabilities along with changes to home equity loan deductions. Boaters are urged to contact a tax preparer or financial adviser for more information.
About Boat Owners Association of The United States (BoatUS):
Celebrating more than 50 years, BoatUS is the nation's largest organization of recreational boaters with more than a half-million members. We are the boat owners' voice on Capitol Hill and fight for their rights. We are The Boat Owners Auto Club and help ensure a roadside trailer breakdown doesn't end a boating or fishing trip before it begins. When boats break down on the water, TowBoatUS brings them safely back to the launch ramp or dock, 24/7. The BoatUS Marine Insurance Program gives boat owners affordable, specialized coverage and superior service they need. We help keep boaters safe and our waters clean with assistance from the nonprofit BoatUS Foundation for Boating Safety and Clean Water. Visit BoatUS.com.

With Marine Recreation Association being the largest professional organization of marina, boatyard, hospitality, and other marine industry owners and operators located throughout the western United States with additional members in Canada, Mexico, and Australia, our mission is to provide a united voice in representing the interests of the boating industry, and to help educate and inform in all areas of recreational boating. MRA would like to welcome the following companies to our association:
Sacramento Delta Bay Marina
HydroHoist Marine Group announces a $1,000 college scholarship for employees and children of marina members in good standing with Marine Recreation Association (MRA). HydroHoist has been offering this same scholarship for over twenty years to members of other marine associations with great success and participation. "HydroHoist Marine Group takes great pride in offering scholarships for organizations like MRA. We view this as having long-term benefit to the people that support us and our industry," said Mick Webber, President and CEO. This scholarship in the amount of $1,000 ($500.00 per semester) is good towards tuition and books.
The application can be downloaded
MRA Scholarship Application
or be requested by email from mra@marina.org. Completed applications must be submitted by September 1, 2018. Additional details are outlined in the application.
To all of our MRA Members and Future Members
Planning for the 47th Annual MRA Educational Conference and Trade Show that will be held at The Fess Parker A Doubletree by Hilton Resort in Santa Barbara, CA on October 22 - 24, 2018 has already started. The Board of Directors Annual Planning Meeting in early February was where most of the planning was done. Look for details in late April on the website
http://www.marina.org/2018conference/
.
To our trade members, please send me your press releases on new products or services you might have. The Trade Member Highlight section is a free opportunity to advertise them! I am reaching out to all of you and asking you to send me a press release when you have a new product or service that you would like for us to highlight. There will be one each month and will be placed according to submission date. This is one more way for us to promote your support and dedication to the association. We would also like to be included in your list of press release recipients.
As the association continues to grow, we will be welcoming our new members who join in each issue. If you know any of the new members listed in this issue, please welcome them aboard!
Many times the contact name for membership changes during the year and unless it is around renewal time, we may not be aware of the change. Please take a look at your profile and make sure to let us know if there are any changes in contact names, addresses, phone and fax numbers or email addresses so we can have the most up-to-date information for you. Also, if you do not have at least 1 logo and 1 photo (of your marina or product) please email them to
mra@marina.org
so they can be uploaded. You can now also add a YouTube video if you have one.