Dear MRA Members and Friends;
People, Purpose, Passion and the Pathway to Success! What a wonderful time I had in Santa Barbara at the 47th Educational Conference and Trade Show. I had hoped my golf game would have come with me, but it was a wonderful course and a ton of fun in any event.
First, I need to thank my stellar team. Mariann once again did a great job managing the conference, a difficult and sometimes thankless job. As you can imagine these conferences are stressful and never easy. Thanks again Mariann. In addition, I want to thank the Board, particularly Vice President Scott Robertson. It is the VP's job to pull the conference agenda together, and the speakers were great and the conference program flowed well. Finally, thanks again to Board Member Steve Meckfessel and Peter Andrews for the wonderful musical entertainment they provided at the Tuesday reception.
If you attended, I trust that you not only had a wonderful time, but that you took away more pearls of wisdom than you came with. Not only were the speakers entertaining, but the information they provided was invaluable. In addition, we had a great array of trade exhibitors, providing just about anything you need to successfully run your marine-related business. If you did not attend, you missed a great conference and you can make it up next October in beautiful San Diego.
At the conference, Jim Hayes did a great job describing the benefits of the MRA. One of those benefits is the legislative advocacy activity the Association brings to bear, particularly in Sacramento. While we do have a contracted legislative advocacy group, one of the big efforts we coordinate is the California Boating Congress, which is held each year in Sacramento. While MRA takes a lead in planning and coordinating this event, to be successful, we need industry stakeholders - YOU - to make the effort to attend the CBC and talk to your State legislators. The bigger group we have descending on the Capitol, the bigger impression we will make. While I recognize it is an effort, it is an effort well worth it to ensure that elected officials in Sacramento recognize the value of the marina and marine-related industries in the State, and our need to manage regulation and ensure that marine-related programs on the State level are protected. The California Boating Congress is on March 5 and 6 next year - please plan to join us.
Finally, welcome to our new Board Members. I am excited to welcome some younger members - of course everyone is younger to me - I welcome their enthusiasm and younger-generation perspective.


As always, may you have great navigating into the future and always embrace change.
Mark


The 2018 MRA Educational Conference & Trade Show opened to a packed
house with 234 enthusiastic marine industry owners, managers, vendors, and other insiders attending at the Hilton Santa Barbara Beachfront Resort Conference Center.
The three day conference teed off on Monday, October 22nd with three events for attendees to choose from. Thirty golfers participated in the 24th Annual MRA Golf Tournament, playing through early overcast skies, ending in bright sunshine along the spectacular coast at the Sandpiper Golf Club. Twenty-seven other industry professionals attended the educational "Introduction to Basic Marina Operations" seminar, designed to provide new marine operations owners and other staff with an overview of Best Management Practices to enhance marina and boatyard operations, safety, customer service, and fiscal results. And, a group of thirty-two Conference attendees took advantage of the 6th Annual Marina and Boatyard Tour of the 500-slip Santa Barbara Marina, and a fireboat tour of the harbor and East Beach Anchorage to learn about their unique operations and services.
Monday night's Welcome Reception in the Trade Show Pavilion was well attended with libations and hors d'oeuvres provided by sponsoring Trade Show exhibitors, and attendees were given an early opportunity to mingle and browse the latest industry innovations and information. The golf tournament results were also announced and various awards presented to the lucky players.
Tuesday morning's continental breakfast in the Trade Show pavilion was followed by MRA President, Mark Sandoval's welcome and opening remarks to attendees. President Sandoval also presented the 'Darrell McConnell Award', to Jim Hayes, COO, Almar Management, Inc., and MRA Board Member, who received the traditional ship's wheel plaque in recognition of dedication and service to the recreational boating and marine industry. The MRA's '2018 Innovation Awards' were also announced, and winners, Bellingham Marine and XL Lifts, awarded their gleaming trophies.
Santa Barbara Mayor, Cathy Murillo, followed up with a warm welcome to all
attendees, and a brief review of the attractions surrounding the Santa Barbaraarea.
Jim Hayes then led the MRA General Membership Meeting, announcing the election of new Board members, and the retirement of venerable Board member RJ Lorenzi, who has served more than twenty years on the MRA Board.
Bret Gladfelty, MRA Legislative Advocate, The Apex Group, followed Jim with a review of California state legislation and issues facing the industry in the future. And Nicole Vasilaros, VP, Federal and Legal Affairs, NMMA, provided attendees with a review of the national legislative issues facing the industry in 2018.
After a brief break for attendees to relax in the Trade Show exhibit hall, Arron Pellarin, Principle of the Village West Marina, introduced the Conference keynote speaker, Tony Fleming, Founder of Fleming Yachts the renowned yacht builder and industry pioneer who recounted his history in the international yacht building industry, and his personal motto "aim high, stay focused, and never give up" that has helped propel his company successfully through a number of industry recessions.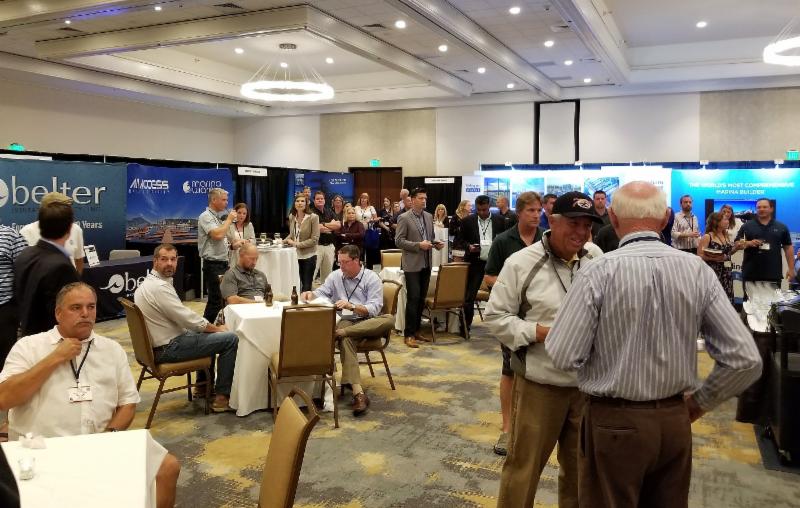 Robert Newsome, Vice President, NMMA closed out the morning with an overview of the State of the Marine Industry, and the continuing need for innovation embracing change as the industry and demographics evolve.
Tuesday afternoon's conference was broken into three hour-long sessions, each featuring three individual seminar topics for attendees to choose from. Session 1 offered a discussion of the Status of California Salt-Water Marinas & Boatyards; The Status of California Inland Marinas / Resorts; and a Social Media marketing overview. Session 2 covered the Implications of Marina Industry Institutionalization; an Interactive Look at the Legal Aspects of OSHA and Citation Defense; and a discussion on Digital Booking Platforms use in
marina operations. The final sessions included topics covering ADA Lawsuits and Steps to Avoid Litigation; Engineering Floating Platforms; and Understanding Google Analytics related to internet marketing.
The MRA's Wine Tasting & Craft Beer Reception in the Trade Show exhibit hall capped off Tuesday's conference events. All 54 of the exhibiting Trade Show vendors provided top notch wine or craft beer selections at their booths for attendees to enjoy as entertainment was provided by the guitar duo of Steve Meckfessel and Peter Andrews. Fresh carved roast turkey, roast ham, and Prime Rib were served with various side dishes, and most attendees stayed late.
Wednesday morning kicked off with another breakfast in the Trade Show pavilion,
followed by an in-depth discussion of the current regulatory environment facing the industry. Navi Dhillon, Special Council, and Paul Kaplan, Founding Partner, KKMI Shipyard, discussed strategies for maneuvering through the regulatory maze and some of the more onerous regulatory challenges.
After the morning break in the Trade Show pavilion, three separate seminars convened on topics covering employee hiring challenges and strategies, dealing with marina and boatyard legal and risk management challenges, and strategies for re-inventing and turning around marina operations in today's evolving business environment.
After another lunch overlooking the sunny Pacific Ocean and Santa Barbara beach front, the Conference's final sessions were again broken into two 1-hour periods with Session 1 featuring topics covering How Technology Driven Business Models are Changing the Marina Industry; Minimizing Risk with Credit Card Processing; and How to Attract Entry Level Boaters. Session 2 topics included the benefits of Clean Marinas and Boatyards, a discussion of the San Francisco Clean Vessel Act Program; and an interactive Social Media Workshop covering the myriad of social media options.
The 47th Annual MRA Educational Conference & Trade Show was another important and informative marine industry event put together by a dedicated group of industry owners, managers, vendors, and MRA staff . . . Coming next is the 4th Annual California Boating Congress. Now is the time to begin thinking about your boating and marine industry legislative / regulatory concerns, and put March 5 - 6, 2019 on your calendar to attend the CBC at the Hilton Embassy Suites in Sacramento.
The Marine Recreation Association is a professional organization that represents marina owners, operators, boatyards, and industry professionals located throughout the western United States with additional members in Canada, Mexico, and Australia. Created more than 46 years ago, the MRA actively promotes and represents recreational boating interests while providing educational management and operations seminars and information for marine industry owners, operators, and staff.
For additional information about the MRA, and all of its activities and interests, please contact Mariann Timms by phone at (209) 334-0661, email at
timms@marina.org
or go online at
http://www.marina.org
.
Claremore, OK - HydroHoist® Marine Group Inc., the market originator and industry innovator of the hydro-pneumatic boatlift, is pleased to announce the 2018 HydroHoist college scholarship winner representing Marine Recreation Association.
The 2018 scholarship recipient is Lillian Deak, daughter of Barbara and Lewis Deak of Isleton, CA. Lillian is attending the University of Arkansas.
"HydroHoist Marine Group takes great pride in offering scholarships for organizations like MRA. We view this as having long-term benefit to the people that support us and our industry," said Mick Webber, HydroHoist President and CEO.
For over 25 years, HydroHoist has provided scholarships in the amount of $1,000 ($500 per semester) for employees and children of marina members in good standing with Marine Recreation Association. Leadership, grade point average, community involvement and extracurricular activity involvement are all factors in the award decision.
HydroHoist Marine Group Inc. was established in 1964 and is celebrating its 54th year in business. Visit
www.boatlift.com
to learn more.
November 14-15, 2018 California Boating & Waterways Commission Meeting!
As the California Sportfishing League (CSL) develops its 2019 State Policy Objectives, we are looking for feedback from California anglers. We want to know what keeps you from fishing more often. The results will help us promote state legislation and public policies that aim to increase fishing participation rates and greater economic activity.

Thank you for taking the time to answer our short survey by clicking on the button below. All responses will be kept confidential.


December 9-13th, 2018 Pt. Richmond,CA
Join ABBRA's widely respected industry experts for a 4-day training course designed for individuals working in management or leadership roles in today's boat building and repair facilities.
The course is co-hosted by Keefe Kaplan Maritime Inc. and is being held at their Pt. Richmond, CA facility.
Course Content:
* Leadership Skills and Time Management
* Human Resources and Team Building
* Safety, Health and Emergency Response
* Marketing and Social Media
An important feature of the Certified Marine Service Manager (CMSM) course is its intensive participatory characteristics that help attendees establish strong and lasting networks of contacts in the industry and throughout the country.
Who Should Consider CMSM?
This certification is designed for individuals who want to advance and demonstrate proven leadership and management skills in the operation of a boatyard, a service department or marine service and repair business. Candidates for this certification should be currently employed in a boatyard or marine service business in a leadership role (or display the potential for such a role) and have a working knowledge of the boatyard business as it relates to refit, repair, and servicing of boats, their systems, and overall operations. For boatyard operators, the CMSM is a unique opportunity to professionalize your staff and improve the efficiency and profitability of your business.
There will be an opening reception on Sunday, December 9th from 6 to 8pm. The course begins on Monday, December 10th at 8:00 am and ends on Thursday, December 13th at 5:00 pm.
Location & lodging details
The course is being held at the Keefe Kaplan Maritime, Inc. (KKMI) boatyard in Pt. Richmond, CA. Participants are responsible for making their own travel and lodging arrangements.
For more information, contact
info@abbra.org
or call Tel: (401) 236-2466

The City of Long Beach turns to Bellingham Marine to replace dilapidated docks on a budget.
Reusing existing piling can save money on renovations.
It also makes the permitting process much easier.
The decades old, timber docks at the Leeway Sailing Center in Long Beach, CA reached the end of their useful life in 2017. Never intended to accommodate the heavy traffic they received every day, the City needed to replace them.
Engineers wanted to stick to the same footprint as the previous dock, saving the City time and money. Following the same footprint makes the permitting process easier and being able to reuse the existing piling cut costs dramatically.
Engineers came to Bellingham Marine to build a timber dock that could fill these demands while increasing the strength of the dock itself. Bellingham had a solution.
One of the main features of Leeway's new dock is its increased floatation. It has over 90% coverage. This gives the docks a 50 PSF live load capacity, much higher than the industry norm for framed systems.
Torsion tubes in the finger piers provide improved stability and prevents them from twisting. Heavy-duty fendering lines the docks to absorb the shock from the sailing school students tying up their rigs.
Portions of the main walkway of the dock are up to 13' wide.
Built in Bellingham's Castle Hayne, NC plant, the docks traveled across the country. In order to save shipping costs, sections shipped as two undecked pieces. The sections were decked onsite to appear as one continuous piece.
Visitors to the Leeway Sailing Center are thrilled with the modern timber docks and the stability they provide to the novice sailors that use them most.
Creative Pultrusions, Inc. (CPI), a leading pultrusions manufacturer, is pleased to announce its successful acquisition of Composite Advantage (CA) on October 5, 2018. Composite Advantage will be a division under CPI, a subsidiary of Hill & Smith Holdings PLC.
Composite Advantage is an engineered solutions supplier of innovative Fiber Reinforced Polymer (FRP) products for major infrastructure markets. CA's unique infusion technology combines progressive designs with the capability to mold large parts, perform on-site assembly, and support customer installations.
Since 2005, CA has developed lightweight, high-strength, cost-effective, FRP goods for structurally demanding applications and corrosive environments. CA offers a comprehensive menu of products ranging from bridge decks, trail bridges, cantilever sidewalks, and rail platforms to fender protection systems, pilings, naval ship separators, and other waterfront structures.
"For more than a decade, we have helped to build industry adoption of FRP composite products in infrastructure, waterfront, and rail applications," says Scott Reeve, president of Composite Advantage. "Teaming with Creative Pultrusions Inc. and the Hill and Smith composite groups allows us to expand the way we serve our customers. With the wider range of products within the composite groups, we will deliver even more valuable system solutions for our customers. We will also have the resources to further the growth of CA and expand FRP applications in our current markets. A larger sales network and presence gives us the tools to educate new market spaces about the advantages of FRP. Our team is excited about the opportunity to work with the composite groups and to make a bigger impact in communities with FRP composites."
Shane E. Weyant, CEO/President of CPI, commented, "We are pleased to announce this acquisition and welcome CA into our expanding composite groups. CA's products, combined with their advanced infusion manufacturing technology, will be greatly beneficial to our composite groups. We commend Scott, Andy, and the CA Team for their dedication and their success in expanding CA. We want to continue our aggressive development of composite products and solutions. We are excited about the future of our composite groups as we strategically position our business units to expand the composite marketplace."
Established in 1973, Creative Pultrusions is located in Alum Bank, Pennsylvania, and is a subsidiary of Hill & Smith Holdings PLC, an international group with leading positions in the design, manufacture and supply of infrastructure products and galvanizing services to global markets. It serves its customers from facilities principally in Australia, France, India, Norway, Sweden, UK and the USA. Headquartered in the UK and quoted on the London Stock Exchange (LSE: HILS.L), Hill & Smith Holdings PLC employs some 4,400 staff, principally in 7 countries.
Suntex Marinas Turns to Meeco Sullivan Again for Vero Beach Marina Expansion
Ralph Morley, Senior VP National Sales for Meeco Sullivan, announced the recent completion of the expansion at the Suntex Vero Beach Marina, which is part of Grand Harbor, Vero Beach's largest upscale residential community on the Indian River and minutes from the Atlantic Ocean. The expansion added 23 open slips from 40' to 60', with two 120' T-heads and 300' of connecting docks, giving the full-service marina a total capacity of 155 boats from 35' to 120' plus a 150' face dock for transient boaters.
This is the fourth marina project Meeco Sullivan has completed for Suntex in 2018.
They chose the Sullivan Timber System with IPE decking, polyethylene floats and piling anchors. The project also included a customized floating dock to accommodate the weight of the electrical substation. The first docks were delivered on-time in early May and completed by mid-June for new summer boaters. Given the limited and tight access areas around the marina, Meeco Sullivan had to carefully plan and manage the dock delivery and offloading process for everything to be completed on schedule.
This is Suntex Marinas second project with Meeco Sullivan in Florida. Sam Chavers, Suntex Regional Vice President commented that "We are very pleased with the quality of Meeco Sullivan's docks and their customer service - as well as their team's professionalism throughout the project. They take great pride in their work and delivered everything on-time as promised."
MEECO SULLIVAN is a leading supplier of freshwater and saltwater marinas and floating dock systems. Their product offering includes Galvanized Steel Dock Systems, Atlantic Glulam Timber Dock Systems, Sullivan Timber Dock Systems, Aluminum Dock Systems, Wave Attenuators, Rowing Docks, Residential Docks and Service Docks/Platforms. With over 110 years of experience, they are a recognized pioneer and leader in the design and construction of floating dock systems with thousands of marine installations worldwide. To learn more please visit meecosullivan.com or for more information contact Ralph Morley at rmorley@meecosullivan.com.

With Marine Recreation Association being the largest professional organization of marina, boatyard, hospitality, and other marine industry owners and operators located throughout the western United States with additional members in Canada, Mexico, and Australia, our mission is to provide a united voice in representing the interests of the boating industry, and to help educate and inform in all areas of recreational boating. MRA would like to welcome the following companies to our association:
Zenya

To all of our MRA Members and Future Members
The 47th Annual MRA Educational Conference & Trade Show is now over although there is still a lot of clean up going on in the MRA office. Surveys were sent out yesterday. Please take a moment to fill out the survey. It is very important in planning for the next year's venue. Mark your calendars for the 48th Annual MRA Educational Conference & Trade Show that will be held at the Hilton La Jolla Torrey Pines on October 21 - 23, 2019.
Save the Date for the 4th Annual California Boating Congress that will be held on March 6, 2019 and plan to register early. There will be government and industry speakers in the morning and a chance to meet with YOUR legislator in the afternoon. If you are able to come a day early, there will be a cocktail reception the evening before the event on March 5, 2019.
To our trade members, please send me your press releases on new products or services you might have. The Trade Member Highlight section is a free opportunity to advertise them! I am reaching out to all of you and asking you to send me a press release when you have a new product or service that you would like for us to highlight. There will be one each month and will be placed according to submission date. This is one more way for us to promote your support and dedication to the association. We would also like to be included in your list of press release recipients.
As the association continues to grow, we will be welcoming our new members who join in each issue. If you know any of the new members listed in this issue, please welcome them aboard!
Many times the contact name for membership changes during the year and unless it is around renewal time, we may not be aware of the change. Please take a look at your profile and make sure to let us know if there are any changes in contact names, addresses, phone and fax numbers or email addresses so we can have the most up-to-date information for you. Also, if you do not have at least 1 logo and 1 photo (of your marina or product) please email them to
mra@marina.org
so they can be uploaded. You can now also add a YouTube video if you have one.
Email:
timms@marina.org