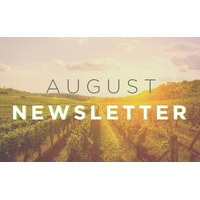 August 2021

From the Helm
To all our valued members,

I have always believed change is good but I am struggling with the change fires have made to my life. I am writing this sitting in an RV park in the wonderful coastal community of Half Moon Bay. This was not a planned getaway but more along the lines of "get out of the smoke" getaway. Our community in the foothills of the Sierra's, Grass Valley, has been inundated with smoke from the Dixie and Calder fires. We are lucky that it is only smoke, not the fire that has destroyed thousands of homes.

Fires brought me to Half Moon Bay but spending an unplanned week in an RV, walking the beach and riding my bike with my wife Debra has given me the opportunity to re-connect. Now you say what does that have to do with the marine industry? It doesn't but in these difficult times of COVID and fires it is reminder for all of us to stay connected to the ones we love.

Conference planning is almost done. Your board of directors will be meeting on September 8th to put the final touches on the conference. If you haven't signed up, its not to late.

Sincerely,
Scott Robertson
President

---

"Unhinged Boat Owners & Other War Stories" regaled at this year's 49th Annual Educational Conference & Trade Show
____________________________________

This year's Annual MRA Educational Conference & Trade Show, scheduled for October 11 – 13, 2021 at the Hilton La Jolla Torrey Pines Resort in La Jolla, California, in partnership with the California Association of Harbor Masters & Port Captains, will bring together two pivotal marine industry organizations with an expanded theme and focus for 2021.

While the Conference will cover numerous topics related to both inland and coastal marina operations, one special breakout session will focus on some of the more bizarre and perplexing boater relations and legal issues faced by many marina operators.

Most marina operators will sooner or later encounter boaters who engage in unacceptable and often bizarre conduct. Philip E. Weiss, Esq., Brodsky, Micklow, Bull & Weiss has seen it all during his 28+ years as a lawyer and maritime law expert representing hundreds of marina, boatyard, municipality, and port district clients.

"Unhinged Boat Owners and War Stories (Part II)" presented by Mr. Weiss at the Conference on October 13th at 1:00 PM, will regale some of that bizarre and often unlawful behavior, including incidents of abusive and threatening interaction with marina staff, filing of bogus complaints and lawsuits, use of a vessel as a brothel and other illegal pursuits, living aboard without permission, and numerous other unacceptable conduct. Phil will discuss legal and other means for handling such situations, and will encourage active participation from attendees who might have other experiences they can share.

In addition to a broad range of educational seminars and presentations, the 2021 MRA Educational Conference will also feature an extensive Trade Show exhibiting the latest technology and engineering in marine products and services from leading industry vendors and contractors focused on innovation, growth, and profitability to meet today's evolving industry needs.

For a complete description of ALL Conference events and seminars, and to register for the 49th Annual MRA Educational Conference & Trade Show, in partnership with CAHMPC, visit the MRA website at www.marina.org.

RBOC, BoatUS and Coalition of Local,
National Recreational Boating Groups Work to
Prevent 250% California Boat Registration Fee Hike
_________________________________

California's recreational boaters could have been in for a shock with a proposed 250% recreational vessel registration fee increase being discussed among Golden State legislators earlier this year. However, a coalition of boating groups led by Recreational Boaters of California (RBOC) and Boat Owners Association of The United States (BoatUS) successfully eliminated the fee increase from the state's recently announced budget proposal – but kept the door open to more equitably fund the state's boating safety, infrastructure, environmental and law-enforcement programs. The measure was supported by Gov. Gavin Newsom.

"This is the right decision for boaters," said RBOC President Winston Bumpus. "The further we look into the many different pots where boater-generated fuel-tax dollars are placed, the more questions boaters have identified about the fairness of a registration fee increase."

Bumpus noted that Golden State boaters pay $107 million each year in fuel taxes to the state, yet only $15 million – or just 14% – is provided to the Harbors and Watercraft Revolving Fund (HWRF) for a number of programs and services, including boater education and operator certification, safety and enforcement on the waterways, boating facilities, removal of abandoned and derelict watercraft, and efforts to combat aquatic invasive species. As recently as 2019, HWRF had teetered on insolvency.

BoatUS Manager of Government Affairs, David Kennedy said, "This is a great demonstration of the benefits of boaters engaging on issues that matter to their boating. Working with RBOC, more than 4,000 messages were sent by BoatUS members to the legislature and governor. It's clear their voices were heard."

Coalition members included the Pacific Inter-Club Yacht Association, Southern California Yachting Association, Marine Recreation Association, California Association of Harbor Masters and Port Captains, California Yacht Brokers Association, National Marine Manufacturers Association, California Association of Harbor Masters and Port Captains, as well as thousands of California boaters who took action.

The final state budget action allocates state general fund dollars to HWRF, which is administered by the California Division of Boating and Waterways (DBW). RBOC, BoatUS and others are expected to participate in a public stakeholder process that DBW will initiate in the near future to develop recommendations for long-term solutions to the funding deficiencies with HWRF.

"Boat registration fees will be part of that conversation, together with efficiencies and improvements to existing programs and revisions to better serve the boating public," added Bumpus.

About Boat Owners Association of The United States (BoatUS):
Celebrating more than 50 years, BoatUS is the nation's largest organization of recreational boaters with more than 800,000 members. We are the boat owners' voice on Capitol Hill and fight for their rights. We are The Boat Owners Auto Club and help ensure a roadside trailer breakdown doesn't end a boating or fishing trip before it begins. When boats break down on the water, TowBoatUS brings them safely back to the launch ramp or dock, 24/7. BoatUS offers GEICO boat insurance policies that give boat owners affordable, specialized coverage and superior service they need. We help keep boaters safe and our waters clean with assistance from the nonprofit BoatUS Foundation for Boating Safety and Clean Water. Visit BoatUS.com.

Construction Corner
____________________________________

Port of San Diego Tuna Harbor: Dock 2 Replacement and Dock 3 Repair

Once known as the tuna capital of the world, San Diego has a long history of commercial fishing. Two of the country's three biggest canneries were once based along the San Diego Bay. While tuna is no longer one of the largest industries in the city, fishermen still sail from the Tuna Harbor Basin at the Port of San Diego to catch other species such as lobster and swordfish. The harbor boasts 13.1 acres of water designated for commercial fishing purposes, and the floating docks in the harbor were constructed to provide slips for home-ported commercial fishing vessels up to 90 feet long.

With such a long history in an active marine environment, wear and tear is inevitable. In November 2019, the Port of San Diego Unified Port District awarded the Tuna Harbor Dock 2 Replacement and Dock 3 Repair contract to Bellingham Marine, with a 180-calendar day timeframe.

The original 534' timber Dock 2 was constructed in 1983, and consisted of 53 slips, including 27 fingers ranging in size from 30 to 60 lineal feet. The existing aged timber dock was demolished, removed, and replaced with a more stable, lower maintenance, and longer-lasting concrete Unifloat dock system, a stronger application designed to withstand the heavy wave environment created by the large ships passing through San Diego Bay. The replacement included monolithic 30' and 50' concrete fingers, which provide added stability and durability. The square fingers were upgraded to include round finger ends, which are a modern feature in today's marina design, making leaving and returning to the slip stress-free. Bellingham Marine completed all electrical work in-house, and maintained electrical service to Dock 3 while the new switchboard was installed on Dock 2.

Dock 3 was originally constructed of timber in 1977 and underwent a renovation in 2003 to replace timbers and steel framing, and installation of new pontoons. It consists of 32 slips, including 16 fingers ranging in size from 40 to 50 lineal feet. This structural repair work included replacing steel bolts and tightening brackets on 13 fingers, replacing steel angle bracket and bolts on one finger, and replacing existing new vinyl fendering on one finger to prevents boats from getting scratched. It also included reconnecting the steel guide bracket at one finger dock, reconnecting the corner bumper on one finger, and replacing a UHMW roller on one finger. In addition to the structural repairs, Bellingham removed, disposed of, and installed 31 new power pedestals.

Bellingham Marine completed all work in-house as a licensed general contractor, fire protection contractor, and electrical contractor.

Marina Bulletin Board
____________________________________

Discover Boating is launching a new digital video series, 'Boating Basics: Pro Tips,' powered by Progressive®, on its YouTube channel to engage and educate boaters. The first video debut, "Preparing for a Day on the Water," features a pre-departure boating checklist all boaters should have every time they pull off the dock. This critical checklist includes U.S. Coast Guard required boat safety equipment, such as life jackets or PFDs, fire extinguisher, visual distress signals, sound signaling devices, and a throwable floatation device.

"Boaters, especially the newcomers, are seeking boating tips that can provide the nautical know-how they need to enjoy a stress-free day on the water," said Ellen Bradley, NMMA senior vice president & chief brand officer. "Discover Boating's new video content series is a helpful solution that delivers expert tips – from boating basics to safety-related reminders – in an easy-to-digest format that meets the needs of today's consumer."

View the video below. Industry stakeholders are encouraged to share it on social channels, websites and in emails to help engage, educate and connect with customers. For more information, check out the full article on DiscoverBoating.com.

Stay tuned for the release of episodes 2-5 featuring a variety of boating topics such as how to launch a boat, driving and docking tips, and understanding the rules of the water.

Also, don't forget to subscribe to the Discover Boating YouTube channel.

Trade Member Highlight
___________________________________

Bringing Together your Marina Planning and Projects with Turnkey Solutions

James (aka: J) Mills has been a member of the MRA since 1998, representing a number of marine businesses, vendors and marinas, and recently became a new MRA member as Principal & Lead Consultant with Marina Business Associates, a marine business consulting and project management company.

With more than 30 years of experience in the Outdoor Recreation and Marine Industries, J and Marina Business Associates, provide comprehensive Marina, Boatyard & Resort Operations and Development consulting services focused on the optimization of client customer satisfaction, business growth, and fiscal results.

As a Marina Operations Manager and Consultant, J has worked extensively with both public and private-sector marina operators, and managed the acquisition and/or turnaround of numerous marina and resort operations, including the privatization of several municipal and state marinas, developing and implementing strategic business and operations plans to enhance customer services and investment returns.

"Our services and expertise are focused on helping our clients optimize their money, time, and assets by streamlining their project planning and management," said J Mills. "We work closely with our clients to enhance their operations, employee performance, and customer satisfaction, and ultimately maximize revenues and profitability."

J is a licensed Class "A" General Engineering Contractor (CA-CSLB #920518) and has designed and managed more than $40 million worth of inland and coastal marina renovation and development projects across the United States, working with leading marine engineers, manufacturers, and contractors to provide turnkey marina design-build solutions and project management focused on creating the best guest services and facilities with the highest quality, value, and return on investment.

For more information about Marina Business Associates visit www.MarinaBusinessAssociates.com or contact J Mills at jmills@MarinaBusinessAssociates.com or call (209) 452-2475.

Welcome New Members
__________________________________

With Marine Recreation Association being the largest professional organization of marina, boatyard, hospitality, and other marine industry owners and operators located throughout the western United States with additional members in Canada, Mexico, and Australia, our mission is to provide a united voice in representing the interests of the boating industry, and to help educate and inform in all areas of recreational boating. MRA would like to welcome the following companies to our association:

Cliff's New Marina
Edson Corporation

The Last Word
To all of our MRA Members and Future Members

Yes we are a little late getting this newsletter out. It has been very busy in the MRA office with renewals and conference planning as well as the everyday items we do. Unfortunately, we don't have a lot of articles for August. I am always looking for items for the newsletter. Please send me any articles you want to share.

Our 49th Annual MRA Educational Conference & Trade Show in partnership with California Association of Harbor Masters and Port Captains will be held at the Hilton La Jolla Torrey Pines on October 11 – 13, 2021. The information is now on the website at https://www.marina.org/cpages/conferencehomepage. Cut-off date for the conference hotel rate of $239 is September 20, 2021 although it will likely sell out before then. Please make your reservations soon!

To our members, the website now requires an additional step when signing in. You will be prompted to provide confidential answers to questions before performing any other actions on the website. This will involve choosing four of nine possible questions to provide answers to. Once the questions and answers are set, you will then be able to proceed on the website as normal.

Our FREE Educational Series webinars are still available for viewing and can be accessed at: https://www.marina.org/cpages/mra-educational-series-seminars.

Also, if you were unable to attend this year's 5th Annual California Boating Congress, the video is available to watch at: https://www.marina.org/events/5th-annual-california-boating-congress-2.

To our trade members, please send me your press releases on new products or services you might have. The Trade Member Highlight section is a free opportunity to advertise them! I am reaching out to all of you and asking you to send me a press release when you have a new product or service that you would like for us to highlight. There will be one each month and will be placed according to submission date. This is one more way for us to promote your support and dedication to the association. We would also like to be included in your list of press release recipients.

Many times the contact name for membership changes during the year and unless it is around renewal time, we may not be aware of the change. Please take a look at your profile and make sure to let us know if there are any changes in contact names, addresses, phone and fax numbers or email addresses so we can have the most up-to-date information for you. Also, if you do not have at least 1 logo and 1 photo (of your marina or product) please email them to mra@marina.org so they can be uploaded. You can now also add a YouTube video if you have one.
---