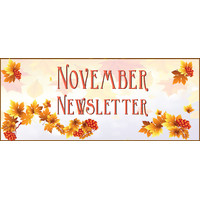 Dear MRA Members & Guests,

As the holiday season is upon us, it's essential to take a moment to reflect on the year and everything we've accomplished—as individuals and an industry. It's has been an unprecedented time in our lives, and the fatigue of the heavy lifting is real. So I invite you to share joy and gratitude this holiday season to counter the hardships of lockdowns and uncertainty. Take the time to celebrate with your boaters and colleagues; embrace the silly and fun. It feels wonderful.

We are about to enter a milestone year for the Marine Recreation Association, 2022 will be the 50th Anniversary of our Annual Conference, and we are excited to celebrate this with all of you! Our call for presentations announcement is included in this newsletter and will be going out to the broader industry.

So my question to you, dear members, is what you would like to see for content next year?

Lastly, I wish you all a wonderful holiday season; cherish the time!
CALL for PRESENTATIONS
50th Annual MRA Educational Conference & Trade Show
The Marine Recreation Association has issued a "Call for Presentations" for the 2022 MRA Educational Conference & Trade Show to be held October 18 - 20, 2022, in Santa Barbara, CA
Presenters interested in participating in the 2022 Conference are encouraged to submit proposals for consideration by the MRA Board of Directors no later than January 4, 2022. Typical presentations should fit a 55 minute timeframe focused on marina and boatyard industry marketing, management, planning, development, regulation, technology, and other topics of interest, in a multi-media and/or roundtable format.
The MRA's annual Conference is an ideal opportunity for marine industry professionals to share their expertise and experience with hundreds of marine business operators, developers, owners, and industry insiders from across the western U.S. and elsewhere. The three-day Conference will include seminars and roundtable discussions covering key marine and marina resort management, operations, and marketing concerns focused on enhancing guest services and customer satisfaction, improving marina and resort operations and regulatory compliance, and optimizing business growth and results. The Conference will also feature an extensive marine Trade Show featuring industry vendors and contractors exhibiting the latest technology, products, and services.
Participating speakers will have an opportunity to present their company and/or professional expertise in a position of industry leadership, by sharing knowledge and experience to help raise awareness and understanding of key industry topics for a diverse group of industry attendees.
Presentations may cover a broad range of topics, including marina resort planning and development, expanding ancillary services and facilities, best business practices, new marketing and customer outreach technology, regulation compliance and impact, marina and boatyard renovation planning, design, permitting and implementation, market trends and developments, and other topics enhancing operator knowledge and marine operations.
"The MRA continually seeks educational presentations for-and-by our members that bring unbiased and new information about emerging issues, technologies, and strategies impacting the industry and our member's success, and our Conference and Regional Training Programs are ways we accomplish that objective," said Mariann Timms, MRA Operations Administrator.
Presentation proposals for the 2022 Conference must be submitted no later than Tuesday, January 4, 2022
, via email to
mra@marina.org
. Proposals must include the title of the presentation, a brief overview of the subject matter, the presentation format, and the name and short bio of the presenter.
Submitted proposals will be reviewed at the Board of Directors Annual Planning Meeting on January 6
th
and 7
th
, 2022, and approved presentations will be notified by the beginning of February 2022.
Life Jacket Loaner Program Application
If your organization, boating agency, company, or municipality wants to host a Sea Tow Foundation Life Jacket Loaner Station during the 2022 boating season, the application is now open. Online applications are being accepted from November 1, 2021 through February 1, 2022 and there is no cost to apply.
Applicants will be notified by the end of March 2022 regarding the status of their acceptance and life jackets will be shipped free of charge to selected recipients during the 2022 boating season.

New Labor Laws Employers Will See in 2022
With the new year just around the corner, it's important for California employers to look over and prepare now for the new labor laws coming in 2022. The California Legislature had another busy year, and Governor Gavin Newsom signed laws pertaining to family leave; Cal/OSHA citations; settlement agreements; enforcement of wage liens; wage theft; warehouse quotas; the elimination of piece-rate compensation for garment manufacturing; stockpiling personal protective equipment; and COVID-19, among many others.
Below is a sampling of the important 2022 employment laws employers should know. Unless otherwise noted, the new laws take effect on January 1, 2022.
California Family Rights Act
AB 1033 cleans up and builds upon last year's SB 1383, which dramatically expanded the California Family Rights Act (CFRA) to cover small employers and expanded the definition of family member for whom leave could be taken. This new bill clarifies that employees can take family and medical leave to care for a parent-in-law with a serious health condition.
AB 1033 also revises and adds more detailed provisions to the small employer (five to 19 employees) mediation program originally created in 2020 by AB 1867, including making participation in the mediation program a prerequisite to the employee filing a civil action. The revisions to the program should help more small businesses become aware of their ability to resolve CFRA disputes through mediation rather than costly civil litigation.
Safety and Wage Enforcement and Penalties
SB 606 expands the enforcement authority of the California Division of Occupational Safety and Health (Cal/OSHA) by creating two new violations categories for which Cal/OSHA can issue citations — "enterprise-wide" violations and "egregious" violations.
This bill creates a rebuttable presumption that a violation committed by an employer with multiple worksites is "enterprise-wide" if the employer has a written policy or procedure that violates certain safety rules or Cal/OSHA has evidence of a pattern or practice. Cal/OSHA may issue an enterprise-wide citation requiring abatement if the employer fails to rebut the presumption. Enterprise-wide citations will carry the same penalties as citations for repeated or willful violations, up to $134,334 per violation.
Cal/OSHA also must issue a citation for an "egregious violation" if the division believes that an employer has willfully and egregiously violated an occupational safety or health standard, order, special order or regulation based on several factors listed in the statute. The bill requires each instance of an employee exposed to that violation to be considered a separate violation for the issuance of fines and penalties.
AB 1003 makes the intentional theft of wages, benefits or compensation in the amount greater than $950 for one employee or more than $2,350 for two or more employees in a consecutive 12-month period punishable as grand theft under the California Penal Code, which prosecutors may charge as a misdemeanor or felony.
SB 572 deals with enforcement of wage liens against employers by adding a provision to the Labor Code allowing the California Labor Commissioner to create, as an alternative to a judgment lien, a lien on real property to secure amounts due to the Commissioner under any final citation, findings or decision.
SB 331 significantly expands on laws passed over the last few years limiting the ability to use confidentiality clauses in severance and settlement agreements. Prior to SB 331, any settlement agreement in a case where sexual harassment, sexual assault or discrimination based on sex has been alleged couldn't include a confidentiality provision prohibiting disclosure of information regarding the claim.
SB 331 expands the prohibition to include acts of workplace harassment or discrimination based on any characteristic protected under the Fair Employment and Housing Act, not just those based on sex. While employees cannot be prohibited from discussing underlying facts of the case, employers can still use clauses that prevent the disclosure of the amount paid to settle the claim. SB 331 will apply to agreements entered on or after January 1, 2022.
Industry-Specific Measures
AB 701 specifically targets warehouse distribution centers. The new law applies to certain larger employers meeting industry definitions for General Warehousing and Storage, Merchant Wholesalers (Durable and Non-Durable Goods), and Electronic Shopping and Mail-Order Houses. The law requires covered employers to provide each nonexempt employee working at a warehouse distribution center a written description of each quota to which they are subject, including tasks to be performed, materials produced or handled, time periods and any potential adverse employment actions that may result from failure to meet quotas.
Under AB 701, employees cannot be required to meet quotas that prevent compliance with meal or rest periods, use of bathroom facilities, or health and safety laws. If employees feel that quotas are interfering with these things, they can request a copy of applicable quotas and the last 90 days of their personal work speed performance, which the employer must produce within three weeks. The law also creates a rebuttable presumption of retaliation if the employer takes adverse action against an employee within 90 days of the employee's request for their quota and personal work speed performance or an employee's complaint about a quota.
SB 62 requires garment manufacturers and "brand guarantors" who contract with another person for the performance of garment manufacturing to be jointly and severally liable with manufacturers or contractors for wage violations of employees in the supply chain. For purposes of expanding the shared liability under this law, the bill expands the definition of garment manufacturing.
SB 62 also prohibits the practice of piece-rate compensation for garment manufacturing, except in cases of worksites covered by a valid collective bargaining agreement. The bill imposes statutory damages of $200 per employee against a garment manufacturer or contractor, payable to the employee, for each pay period in which each employee is paid by piece rate.
AB 73 expands on one of last year's personal protective equipment (PPE) bills, SB 275, which established a state stockpile of PPE in the event of a pandemic. AB 73 broadens the scope of the law to include wildfire smoke events as a health emergency under the law and includes agricultural workers in the definition of essential workers. The bill also requires Cal/OSHA to review and update wildfire smoke training, which employers must follow.
Governor Newsom also signed AB 654, which clarifies and cleans up last year's COVID-19 notice and reporting bill, AB 685. As previously reported, the bill revises the language AB 685 used to describe COVID-19 notice requirements to make it more consistent throughout. This was an urgency measure that took effect immediately upon signing.
Under SB 336, when the California Department of Public Health (CDPH) or a local health officer issues an order or mandatory COVID-19-related guidance, they must publish the order or guidance on their website along with the date that the order or guidance takes effect. The CDPH or local health officer must also create an opportunity to sign up for an email distribution list to receive updates on the order or guidance. This measure will hopefully make it easier for businesses to track and implement the most current COVID-19 orders and guidance. SB 336 also went into effect immediately upon signing.
In addition to the new laws, employers should continue to monitor additional COVID-19 regulatory developments.

Bellingham Marine Mourns the Loss of Founding Member Pete Gaasland
Bellingham Marine mourns the loss of Pete Gaasland, a marina industry pioneer and a member of Bellingham Marine's founding family. Peter passed away on November 12th, 2021.
An accomplished businessman, Pete was the driving force behind the mass adoption of the use of the concrete floating dock system for marinas and other numerous applications that have become today's industry-leading product. Bellingham Marine was incorporated in 1928 with the Gaasland family acquiring ownership in 1942. When Pete completed college in 1959, he joined the family business where he rose through the ranks at Bellingham Marine and led the company from 1968 through 1995. During his stewardship, Bellingham Marine emerged as a global leader in the design and production of floating concrete docks. Bellingham Marine has changed ownership since the Gaasland era, but many of his principles have been retained by the company to this day.
Many iconic projects were built during Pete's tenure with the company but perhaps the most notable was the Port of Seattle's Shilshole Bay Marina. This 1,500-slip marina established the company's reputation and products as a leader in the field of marina design and construction.
"The Bellingham Marine team is saddened by the loss of Pete Gaasland. We extend our sincere condolences and sympathy to Pete's family. Our thoughts are with them during this difficult time," said Joe Ueberroth, the current owner of Bellingham Marine.
Peter is survived by his wife, Susan, and his four daughters Carrie, Cindy, Katie and Kelli.
LA Waterfront Phase One is Complete
The Port of Los Angeles is one of the
busiest ports in the world, and soon the nearby LA Waterfront will become an attraction of its own for locals and visitors alike. As part of the Port of Los Angeles' $36 million Town Square & Promenade project to revitalize the LA Waterfront, Bellingham Marine supplied one of the most prominent features linking the water to the land. Bellingham designed and manufactured a durable, state-of-the-art 600-foot floating dock and acted as a consultant on-site during installation of the dock. The project broke ground in January 2020, and Phase One was recently completed in October 2021.
Previously inaccessible to recreational boaters, this new dock will provide access to bring visitors to the waterfront. Built
between the Los Angeles Maritime Museum to the North and the cruise terminal to the South, Bellingham Marine's 15-foot wide, 600-foot long floating dock will provide ample space for visiting boaters to experience the revitalized waterfront, and access the West Harbor development, once it's completed and opens in 2023.
The 600-foot floating dock consists of three 200-foot match-cast float sections, which are designed for heavy wave environments, such as the busy LA channel where cargo and cruise ships frequently pass through. The match-cast structure, which eliminates gaps between floats, is post-tensioned, allowing each 200-foot dock section to act as one solid unit, providing added stability and durability. The heavy-duty construction of the dock provides structure and capability to moor a variety of vessels. In addition to the recreational cleats included on the dock, the large steel mooring bollards incorporated in the structure of the dock allow moorage of large vessels.
The newly built waterfront promenade is currently closed to the public leading up to the next phase of construction, which will begin in 2022. The next phase will include the West Harbor commercial development, slated to include restaurants, breweries, art galleries, shopping, and plenty of outdoor seating. Eventually, the promenade will provide waterfront access between the transient dock, cruise terminal, Town Square, and of course the West Harbor once construction is complete in 2023.
To all of our MRA Members and Future Members
I hope everyone had a wonderful Thanksgiving and was able to share time with friends and family once more!
With only a month to go in this year, there is much in the works for the MRA. While we cannot announce it yet, we are in the process of confirming the hotel for the 50
th
Annual MRA Educational Conference and Trade Show and hope to announce it at the end of this year.
Also in the works is the 6
th
Annual California Boating Congress. Our first call with the co-hosts is on December 1, 2021 at which time the format will be decided. Hopefully we will be able to meet in person!
To our members, the website now requires an additional step when signing in. You will be prompted to provide confidential answers to questions before performing any other actions on the website. This will involve choosing four of nine possible questions to provide answers to. Once the questions and answers are set, you will then be able to proceed on the website as normal.
To our trade members, please send me your press releases on new products or services you might have. The Trade Member Highlight section is a free opportunity to advertise them! I am reaching out to all of you and asking you to send me a press release when you have a new product or service that you would like for us to highlight. There will be one each month and will be placed according to submission date. This is one more way for us to promote your support and dedication to the association. We would also like to be included in your list of press release recipients.
Many times the contact name for membership changes during the year and unless it is around renewal time, we may not be aware of the change. Please take a look at your profile and make sure to let us know if there are any changes in contact names, addresses, phone and fax numbers or email addresses so we can have the most up-to-date information for you. Also, if you do not have at least 1 logo and 1 photo (of your marina or product) please email them to
mra@marina.org
so they can be uploaded. You can now also add a YouTube video if you have one.
---