SOS: California Employers' 9-Step Compliance Blueprint For New Cal/OSHA COVID-19 Safety Standard
January 12, 2021 | 9:00 AM - 10:30 AM
The Cal/OSHA Standards Board recently approved an emergency regulation imposing new obligations on California employers related to COVID-19 prevention. This represents the most far-reaching formal rule-making by Cal/OSHA on COVID-19 and may be a preview of rule-making we can expect at the federal level under a Biden Administration. California employers did not have much time to comply with the new requirements – it became effective December 1, 2020. This webinar will educate you on these significant new requirements and steps you should immediately undertake to ensure compliance. This emergency standard is a significant game-changer, so this is one you will not want to miss.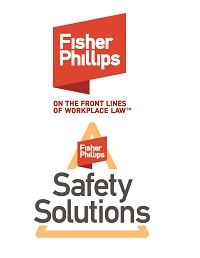 Sponsored By: Fisher Phillips Safety Solutions
Click here for the PowerPoint PDF


Click here for the SOS: California Employers' 9-Step Compliance Blueprint For New Cal/OSHA COVID-19 Safety Standard Video

Click here for California's New Guidance On Emergency COVID-19 Standard Answers Some Questions But Leaves Employer Uncertainty 

Click here for COVID-19 Emergency Temporary Standards Frequently Asked Questions


Travis W. Vance
Partner
Fisher & Phillips, LLP
227 West Trade Street
Suite 2020
Charlotte, NC 28202
704.778.4163
Fax: 704.334.9774
tvance@fisherphillips.com
 

Travis Vance is a partner in the firm's Charlotte office and co-chair of the firm's Workplace Safety and Catastrophe Management Practice Group. He has tried matters across several industries and various subject matters, including employment litigation, business disputes and matters prosecuted by the Mine Safety and Health Administration (MSHA) and Occupational Safety and Health Administration (OSHA). He uses unique or outside-the-box approaches to counsel employers and owners on all aspects of employment law and the development of preventive policies and procedures to avoid employment and workplace safety-related claims. Travis handles litigation in both federal and state courts as well as claims pending with state and federal agencies including the Equal Employment Opportunity Commission (EEOC), MSHA, OSHA, and the U.S. Department of Labor (USDOL).

Travis is also a member of the firm's COVID-19 Taskforce, a cross-disciplinary team of attorneys dedicated to advising employers on the many workplace law aspects of the global coronavirus pandemic. Travis has assisted over 500 companies during the pandemic and remains committed to serving companies to protect the safety and health of their employees. He has received over 40 requests to speak on topics concerning the pandemic.

Robert Smith
Executive Director
Fisher Phillips Safety Solutions
1075 Peachtree Street, NE
Suite 3500
Atlanta, GA 30309O: 404.240.4147
C: 757.589.5391
rsmith@fpsafetysolutions.com

An experienced safety professional with a diverse background across manufacturing operations, management, business development, regulatory compliance, employee training and development, and marine and boatyard safety, Robert brings valuable skills to any organization looking to enhance their safety compliance programs. His familiarity with OSHA regulations coupled with a results-oriented approach to safety program management makes him not only a strong executive director for Fisher Phillips Safety Solutions, but an active participant in our clients' success.